Welcome To Jor-Lin
Jor-Lin, Inc. has been providing safe, reliable charter bus service since 1994.
Each of Jor-Lin's luxury motor coaches is comfortably equipped with air-conditioning, video players, restrooms, and reclining seats. Our primary business is providing charter service to any destination in the United States and Canada. We are also available to serve local civic organizations, church groups, travel clubs, day care centers, senior centers, schools, and family reunions.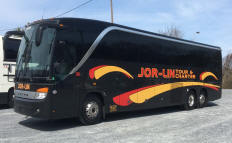 Our Commitment To You
The quality of our service is immeasurable; the unseen details are what makes us Magnificent, not mediocre. We measure the size of our accomplishments by the obstacles we have overcome to reach our goals. We are a small group of thoughtful, committed people that believe life is a journey…taken one customer at a time.